Features of MixColors 3.2

MixColors Photoshop plugin for digital painters, matte painters, vfx artists and comic artists. Improve your techniques with MixColors color palette!
Supports Photoshop 2021, 2020, CC 2019, CC 2018, CC 2017, CC2015, CC2014, CC, CS6, CS5.5, CS5, CS4, CS3, Mac, PC (all Windows). Provides easy mixing of color of your brushes for fast painting on digital canvas. The perfect color painting tool for your Modbook and companion to MagicPicker Photoshop Color Wheel! Used and approved by Hollywood artists.
MixColors has been rewritten from ground up to support new Adobe Creative Cloud 2021 (Photoshop CC 2021)
Color groups! – the most simple and intuitive color group management with drag'n'drop support
Cloud Sync – Sync colors and color groups with the Cloud with safe 256-bit encryption on the server side!
Color mixing improved – next-gen color mixing formula for faster and more accurate results!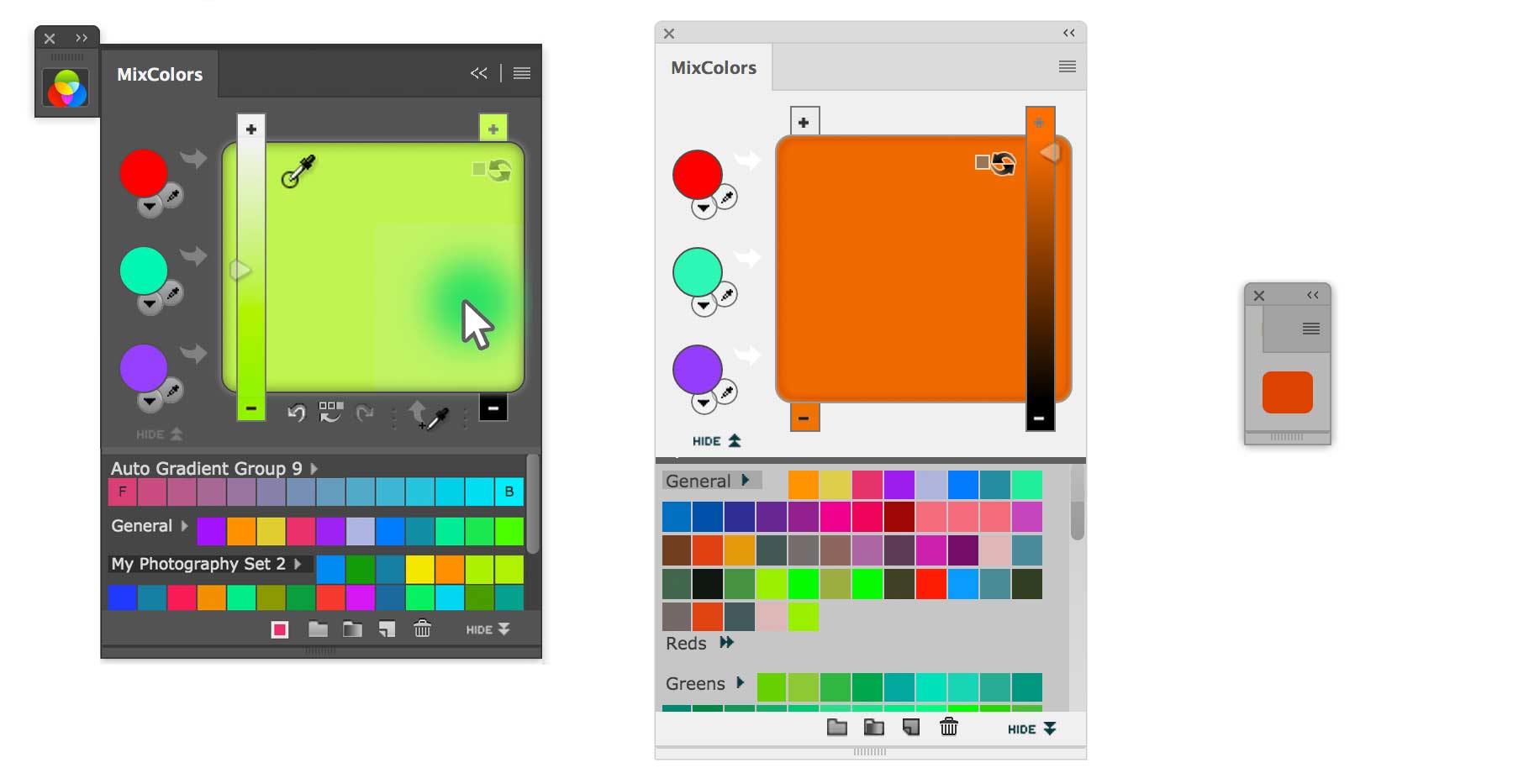 MixColors 3 Color Mixer Modes and Swatch Groups
Mixes colors like it is in real life! — physically-accurate color mixing.
Oils/pastels/watercolor/etc emulation for paints. Works very fast with the new complex color mixing engine.
Mix color directly with photoshop eyedropper! — pick a color and it quickly mixes to the current one — the most intuitive color mixing ever (MIX EYEDROPPER MODE)
Displays history of all colors you used (along with undo/redo buttons for colors)
Compact Mode! Panel takes only 2cm of the screen and expands automatically when mouse is over it
Attach other panels (like MagicPicker) and use two panels as one (very convenient in Compact Mode) — from the menu
Color swatches — prepare colors like you do it on real life palette and mix them
Drop swatches from the bottom line to mix them to current color
Add/Delete swatches with ease
Import/export colors from/to Photoshop swatches
Supports feeback from Photoshop.
FREE UPDATES within major version for all buyers
MixColors Photoshop color mixer manual (work in progress)


<< Return to panels