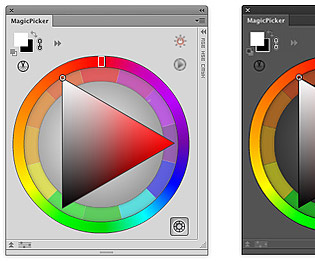 new! Traditional Color Wheel in Photoshop! (RYB mode), CS6, CC, CC2014, CC2015, CC2017, CC2018 support
Features of MagicPicker 5.3
Advanced Color Panel and Color Wheel Photoshop plugin (now supports Illustrator) for digital painters, matte painters, vfx artists and comic artists. Improve your techniques with MagicPicker color palette!
Supports Adobe Illustrator & Photoshop CC2018, CC2017, CC2015, CC2014, CC, CS6, CS5.5, CS5, CS4, CS3, Mac, PC (all Windows). Creative Cloud & Creative Suite. Provides easy changing of color of your brushes for fast painting on digital canvas. The perfect color painting tool for your Modbook or Surface! Revealed in Adobe Blogs 1, 1 Kind word from Alex Broeckel, John Derry, the original color wheel creator, Thomas Amador, in Deutsch, en Español, 日本語で
Used since 2008 inside Disney Studios, Blizzard Entertainment, Dreamworks, Epic Games, Crytek, Marvel Comics, Activision, Aardman Animations, by well-known concept artists such as Craig Mullins, Alex Broeckel, Craig Shoji and many others: read all quotes.

VIDEO: How to use Tone Lock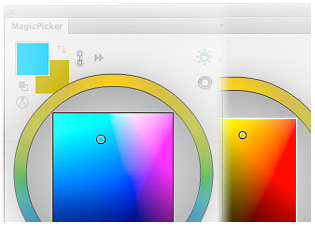 Color Temperature Wheel
new!

Colorize Vector Shapes & Text

in Photoshop! — Change Fill & Stroke. Work with shapes & text on the professional level! Control individual shapes and shape groups. Shift Hue and Color Temperature of the groups. Assign transparent colors, exchange colors! Works with Tone Lock and K-Lock.
new!

Display current color name

and new color space values on the wheel! Supports HSB, RGB, CMYK, YCbCr, YUV, XYZ. Detects color names by HTML/X11 standard. Switchable button on the left bottom corner. Copy values to clipboard with one click
new!

Interactive Help

— Click on any UI element to get full tutorial with description how to use it and what it means.
new!

Full Retina support!

— Beautiful, scalable Retina, HiDPI, 4K, 5K+ hi-res design.

new!

Improved and updated: Link foreground & background works with eyedropper and Brush Color Dynamics .
new! CC2014/CC2015/CC2017/CC2018 support! MagicPicker has been rewritten from ground up to support new Adobe Creative Cloud 2017/2018 (Illustrator & Photoshop CC 2017/2018). New color engine works even faster than before

MagicPicker brings best tools for working with color on the professional level into Adobe Photoshop & Illustrator — from leading game and movie artists all around the world!
K-Lock

lets you keep the same K (black) ink level of your CMYK color while making it darker or lighter (or changing saturation)
Tone Lock 2.0

–
keep colors in the same gamma. Separate foreground from background easily! Now you can keep color's tone while changing its hue or saturation. It helps to keep gamma of your picture as well as keep harmony of colors in the shadows or lights
Color Temperature Wheel!

–
Limit color gamut easily: fine-tune and pick only warm or only cold colors on an intuitive palette. Supports Tone Lock!
Big color swatches! (optional) –
Big colors with color wheel, big colors in Compact Mode, big colors everywhere for better color perception!
Oh boy! Even FASTER! Color picking is now at its maximum speed with the new color engine
Triangle, Box, Diamond modes! Get more shades of brightness and saturation on color wheel

Triangle/Box/Diamond modes
Adobe Illustrator support
Numeric Rulers on HSB/RGB sliders for precise color picking
Leap Motion Controller support (requires Leap Motion Controller and Ethereal) – change colors with your fingers in the air
Easy Color schemes: Mono, Complement, Triad, Tetrad, Analogic, Accented Analogic
Color wheel
Unique Traditional Color Wheel in Photoshop and Illustrator! (RYB mode or Itten's wheel)
Attach Panels: Attach other Anastasiy's panels to MagicPicker and use them in Compact Mode as one
Copy HEX color to clipboard with one click on "#" sign
Very responsive, auto color update in Illustrator & Photoshop CS3, CS4, CS5, CS5.5, CS6, CC+!

MagicPicker features video made by tyr
Compact Mode – only two colors visible,
whole panel opens when mouse is over it
Calibrated CMYK colors for print with usage of current color profiles
You can see old color while choosing new one
Advantages for MagicPicker color wheel on Photoshop CS5, CS5.5, CS6, CC, CC2014, CC2015, CC2015, CC2017, CC2018
Color pane, color wheel, RGB/HSB sliders and HEX box – see screenshots of MagicPicker
Supports Illustrator & Photoshop CS3, CS4, CS5, CS5.5, CS6, CC,

CC2014, CC2015, CC2015.3, CC2015.5, CC2017, CC2018
Sets foreground and background color
Supports feeback from Photoshop. (It's an ability to update panel automatically when a color is picked outside panel,
e.g. with Alt-click on the image)
Arbitrary panel scaling
(H)SB,H(S)B,HS(B) and (R)GB,R(G)B,RG(B) modes support
Numerical boxes for precise color changing
HEX box to get color for your web page element
NO crashes, unlike some other panels
In addition MagicPicker 1.2, 2.2, 3.0, 3.1, 4.0, 4.1, 4.2 and 5.3 updates fix all the bugs,
improve compatibility with Windows 7+ and Mac OS X 10.8/10.10 on calibrated monitors, fix issue with edges of the triangle, fix issues for Japanese and other international users
MagicPicker 4.X improves perfomance (all platforms are speeded up –
CS3, CS4, CS5 and CS6/CC/2014) and includes buttons for swapping colors, changing colors to default, and hiding upper buttons row
FREE UPDATES within major version for all buyers
MagicPicker Photoshop color wheel manual (work in progress)
<< Return to panels