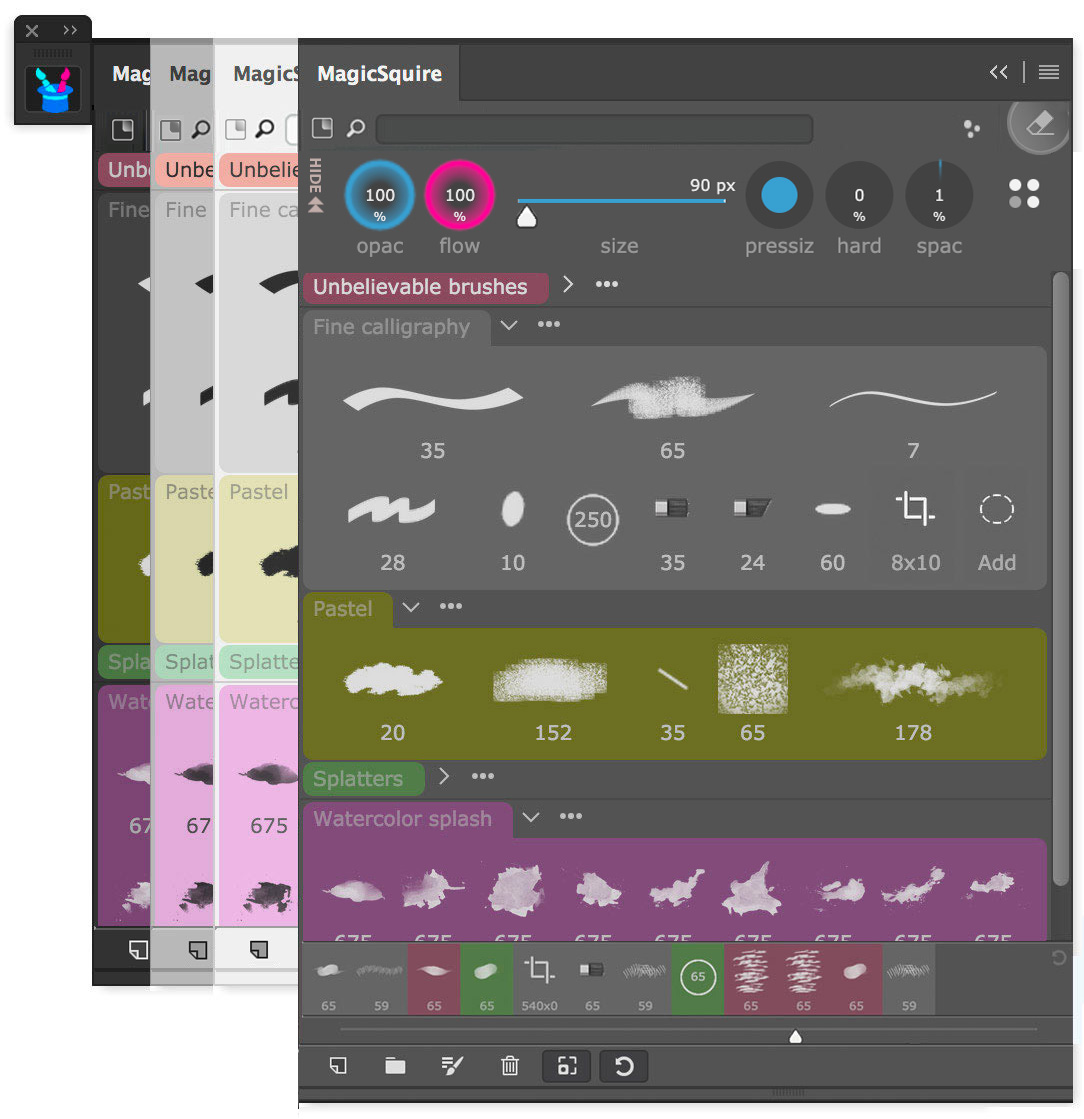 MagicSquire with Brush Controls, Tool Presets, History and Thumbnail scaling activated
Features of MagicSquire 5.1
MagicSquire is an elegant solution that lets you sort, organize and keep your brushes in folders. Assign colors to folder. Load .abr and .tpl files. Supports Adobe Photoshop 2021, 2020, CC2019, CC2018, CC2017, CC2015, CC2014, CC, CS6, CS5.5, CS5, Mac, PC (all Windows). Creative Cloud & Creative Suite. The perfect brush companion for your Modbook or Surface!
Anastasiy's panels are widely used since 2008 inside Disney Studios, Blizzard Entertainment, Dreamworks, Epic Games, Crytek, Marvel Comics, Activision, Aardman Animations, by well-known concept artists such as Craig Mullins, Marc Simonetti, Craig Shoji and many others: read all quotes.

Magic Eraser

turns any tool into Eraser with one click



new!

Brush Controls

— Add the following Brush Controls on top of MagicSquire (or use in a separate HUD popup): Size, Flow, Opacity, Roundness, Hardness, Spacing, Size Jitter, Angle Jitter, Roundness Jitter, Pressure controls Size, Pressure controls Opacity, Flip X, Flip Y, Scatter, Smoothing, Wet Edges, Scatter Count, Scatter Count Jitter, Texture Depth.

• Display only the controls you need and hide ones you don't need using Add/remove brush controls button. • Rearrange and assign accent colors to specific control. • Optionally use as HUD, pops up under your pointer. • Display only Brush Controls in HUD while having list of presets on the panel


new!

Mass-tagging

You can now select unlimited brushes/tools and assign tags to them all at once! You can also edit tags for multiple brushes


new!

Edit appearance of multiple

selected tools presets/brushes. You can select unlimited brush or tool presets and change stroke type for all of them at once.


new!

Supports all new .abr files features

introduced in recent Photoshops. Now supports loading groups from modern .ABR files into groups in MagicSquire


new!

Open/Close all groups at once

— from MagicSquire menu



New features of MagicSquire 4: Popup under cursor, Smart Search, Sticky Brushes

HUD Mode

— Popup MagicSquire anywhere on the screen under your cursor.
- Displayed via a keyboard shortcut (defined in Settings)
- Displayed via a stylus button click (if button click is assigned to that shortcut)
- Displayed by clicking "HUD Mode" button on the panel


MagicSquire in optional "Sticky" HUD mode

- Interactive and fully functional HUD! All MagicSquire functions work including Color Scheme switch etc
- When in HUD Mode all keyboard shortcuts work without running MagicSquire from Extensions menu
- In optional

"Sticky" HUD

mode configured so the button press shows the panel and button release hides it



Sticky Brushes

— completely unique mode in Photoshop - Press keyboard shortcut to activate brush and release to immediately deactivate it
- Allows you to switch to and switch back from your frequent brushes very fast
- Activate from New/Edit Brush Dialog > Sticky


New features of MagicSquire 3: Tags, Collections, Keyboard Shortcuts

Right-Click

on the Brush or Tool Preset to display a menu that lets you quickly operate on the Presets and Groups:

Duplicate

– duplicates currently selected Preset(s).

Move To Group...

– opens up a dialog where you can choose a group to move this Preset to.

New Eraser with same shape

– converts currently selected Preset into an eraser and adds it to the group as new Eraser Preset.

Duplicate Group

– duplicates currently selected Group and all its contents. All brushes and tool Presets in the new group become an autonomous set.
Load multiple .abr or .tpl files into a single group
Auto-close panel after clicking on Preset
Smart Search of brushes & tags with an option to search closed groups

Tags

– assign tags to brushes and then filter them using Search - with Instant Suggestions. Filter out brushes that you don't need in current project, instantly. Search and filter by style, type, project, workspace, team, file, type of work or any other favorite criteria you create by yourself.

Collections

allow you to combine several groups in a collection and then switch between group combinations with one click or keyboard shortcut. Use new Collection editor from the menu.
Directly drag'n'drop .abr and .tpl files on the panel to load them as groups! Works only on Photoshop CC and higher.

New MagicSquire brings: Tags to brushes, Keyboard Shortcuts and Group Collections



Keyboard Shortcuts

for individual brushes. Also keyboard shortcuts to following new and old features of MagicSquire:
- Rotate Brush/Tool tip (works with Clone Tool too)
- Turn current Brush into Eraser (and back)
- Increase/Decrease Load for Mixer brushes
- Switch Collection
- Create New Brush
- New Group
- Switch to next/previous brush in current group
- PRO Mode
- Compact Mode
- Toggle MagicSquire panel
New shortcuts dialog is accessible from the menu.
Relocate data folder and put it on Dropbox, iCloud, One Drive, Box, Google Drive or any other 3rd party cloud service. Back up and safely sync your brushes between computers!
Disable size capture for tools, switch between brushes and tools while keeping size.
Capture current tool's color in the preset and store it in the group
Reset panel will delete all current brush data and allow you to start from scratch
MagicSquire in Horizontal Mode with PRO Mode activated

Video is worth a million pictures! MagicSquire 1.0 in action
Horizontal layout!

— First of a kind in Adobe Photoshop
Advanced Export – groups can be exported as .TPL/.ABR files, converts between formats if needed. Exports filtered results when using search.

Magic Eraser:

click on the new "Use current Tool as Eraser" button to use any Tool Preset you select in MagicSquire

Alt-click a Tool Preset

to use its shape as a current Tool. For example you can use Eraser's shape as Mixer Brush. This way you can change the brush without changing the tool

Easy picking of custom Group colors

with new color picker

Live search

– allows you to quickly filter brushes and tool presets by name
Arbitrary size of the thumbnails with scaling slider
Support for Shapes and Tool Presets! Organize Tool Presets in groups
Recent tool history list! Kept when you open panel and transfer files
PRO Mode to hide new buttons and elements
Superfast new engine rewritten from scratch - much faster UI and brush handling: create brushes faster, load .abr files faster, faster drag'n'drop and faster handling of very large collections (1000+ brushes of size 4GB and higher)

Keeps your brushes organized in colored groups

in Photoshop!
— Puts your brushes in easy-to-use folders collections. MagicSquire structures your brushes so you don't need to look for them every time in neverending piles

Create brushes from scratch

— Just click the New Brush button to add current brush to the panel. Double-click to edit. Click Update to update parameters from Photoshop


Brush list View Modes
Be creative! MagicSquire automatically generates brush images with additional stroke types

, never seen before in Photoshop: long, short, medium and brush texture. That lets you differentiate brushes visually

Supports Tool Presets.

Add advanced brushes and tool presets (like Mixer Brushes, Erasers, Pencils, Smudge Tools etc.) into panel. Rearrange, drag'n'drop, delete and perform all familiar operations

Supports custom .ABR and .TPL

Load existing brush and tool presets collections from .ABR or .TPL files with one click! Supports very large files of 50M and above. Supports loading of thousands of brushes from one file.

Versatile Groups

can be collapsed and rearranged with drag'n'drop

Three view modes

let you see brushes in a familiar list view and two additional innovative view modes! See brush names and sizes in a convenient UI

Compact Mode

lets you have a better right-click for brushes. MagicSquire displays current brush icon and expands automagically on mouse hover

Load multiple .abr/.tpl files

at once

New features in MagicSquire 1.7: Tool Preset support, Compact Mode

New features in MagicSquire 2.0: Horizontal Mode, Thumbnail Scaling, PRO Mode, Recent Tools History




Alt-click on a plain Brush to use it as a Tool (i.e. Eraser, Dodge, Burn or any other). Paint and erase with the same brush!

Complete Photoshop brush types support:

Mixer, physical, textured, patterned, ordinary - ALL OF THEM

Captures all brush parameters:

brush size, flow, blend mode, opacity - you name it! Combines all power of Brush Presets, Tool Presets and Liraries in one single panel. With new features essential to digital art
Full Photoshop Themes support

High resolution rendering

of brush images with beautfiul detail. In addition supports Retina dn HiDPI displays. Supports Wacom Companion, Microsoft Surface, Macbook with Retina Displays, 4K, 5K and 8K displays
Rearrange brushes with drag'n'drop
Just what you needed!
Powered by MagicPicker color wheel engine
FREE UPDATES within major version for all buyers
FREE 24/7 technical support

Three vertical list view modes in MagicSquire

<< Return to panels