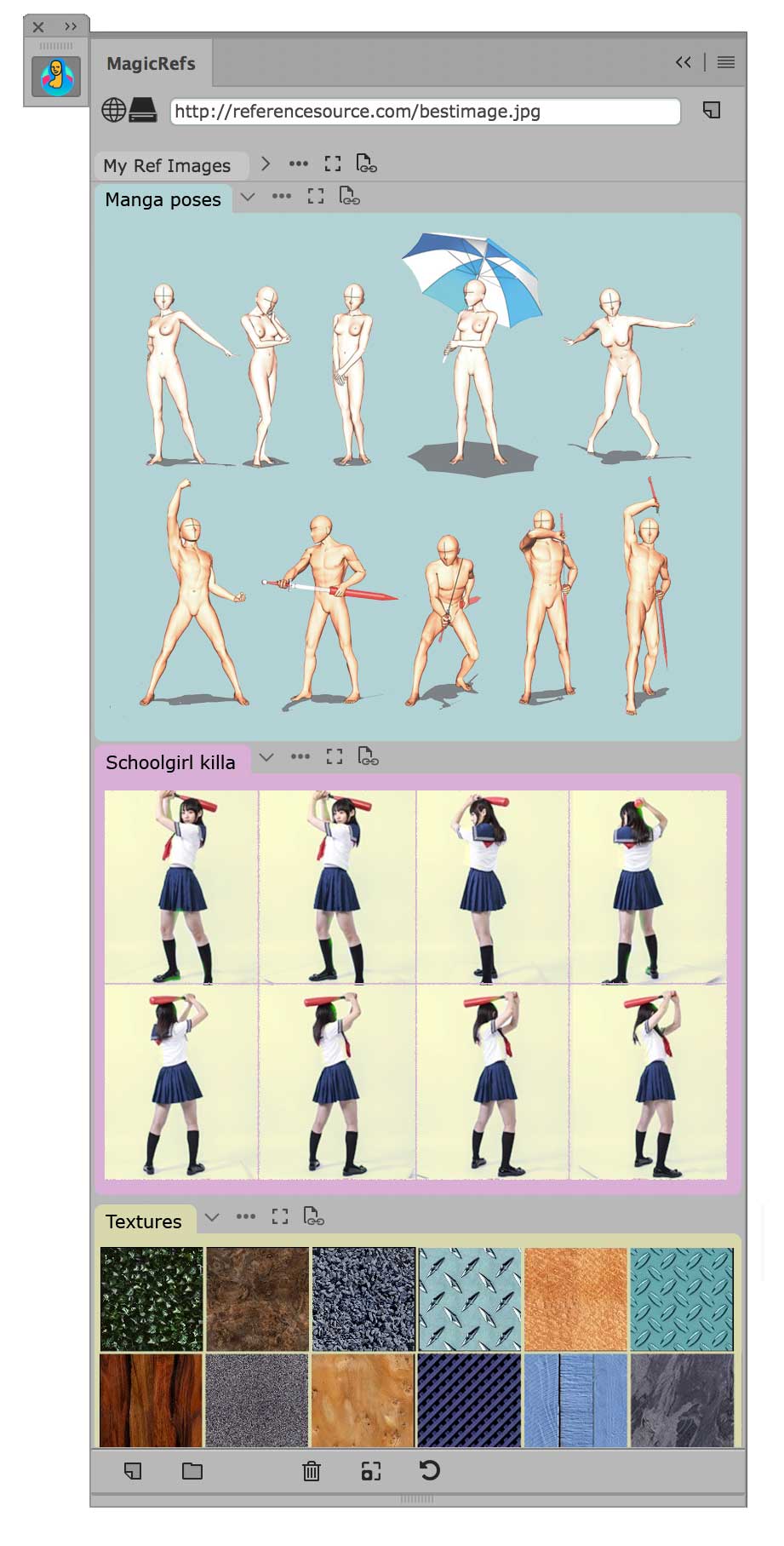 MagicRefs: Reference Image Groups Panel in Photoshop
Features of MagicRefs 1.4
MagicRefs is an all-in-one solution that lets you sort, organize and keep your reference images in folders. Assign colors to folders. Drag'n'drop folders into the panel. Add from websites. Supports Animated GIFs (controls animation). Supports Adobe Photoshop 2021, 2020, CC2019, CC2018, CC2017, CC2015, CC2014, CC, CS6, CS5.5, CS5, Mac, PC (all Windows). Creative Cloud & Creative Suite. The perfect brush companion for your Modbook or Surface!
Anastasiy's panels are widely used since 2008 inside Disney Studios, Blizzard Entertainment, Dreamworks, Epic Games, Crytek, Marvel Comics, Activision, Aardman Animations, by well-known concept artists such as Craig Mullins, Marc Simonetti, Craig Shoji, Goro Fujita and many others: read all quotes.
NEW!

Insert images from the panel into Photoshop document

Drag'n'drop folders!

— Drag'n'drop folders or images directly from Windows Explorer. Mac Finder or Desktop onto the panel with mouse or stylus.

Colored groups

Organize images in colored groups. MagicRefs structures your assets from all around your disk and Internet - so you don't have to!

Easy picking of custom Group colors

with new color picker

Add images from Web:

enter URL and click New - that's it! The image will be downloaded directly into the panel

Drag'n'drop between groups

Select multiple images and move them between groups
Arbitrary size of the thumbnails with scaling slider

Enlarge current image:

click to expand thumbnail to the full panel. Edit selected image - flip, zoom, grayscale

Animated GIFs support

for motion designers: next/previous frame, play, pause, frame-by-frame access!

Compact Mode:

MagicRefs displays current thumbnail and expands automagically on mouse hover

Video is worth a million pictures! MagicRefs 1.0 in action

Deep Integration with Photoshop

Link groups to documents, use eyedropper on the images, more!

Link images to Photoshop documents:

the groups will display only when document is open. When it's close they will hide away to save screen real estate

Use eyedroper:

the groups will display only when document is open. When it's close they will hide away to save screen real estate

See all enlarged references at once

with new Expanded Strip display

Keep MagicSquire images in the cloud

of your choice - relocate to Dropbox, iCloud, SkyDrive, Google Drive, Box or any others! This way you can sync images between computers

High resolution rendering

of reference images with beautfiul detail. In addition supports Retina dn HiDPI displays. Supports Wacom Companion, Microsoft Surface, Macbook with Retina Displays, 4K, 5K and 8K displays
Just what you needed!
Powered by MagicPicker color wheel engine
FREE UPDATES within major version for all buyers
FREE 24/7 technical support

MagicRefs, 3 modes: Color Grouping, Full-size reference image with editing capabilities, Strip free flow view

<< Return to panels
This website uses Pixar One Twenty Eight by Pixar Animation Studios is licensed under a Creative Commons Attribution 4.0 International License. Also Manga images by the 3rd party respective authors.