NEW! Customizable Brush Controls, mass-tagging, change stroke on multiple presets



HUD popup, "Sticky" shortcuts, load multiple files in one group



Tags, Collections, Keyboard Shortcuts, Rotate Brush/Tool, Put data folder in the cloud



Horizontal View, PRO Mode, Recent Tool History, Adding Shapes and Tool Presets



Adding Tool Presets, Loading Tool Presets, Tooltips, Compact Mode, deleting groups, alt-click


Adding brushes, drag'n'drop, organizing in folders, changing groups' colors, renaming, updating, size-only brushes

Brush/Tool Parameters, Tags, Keyboard Shortcut to Brush/Tool preset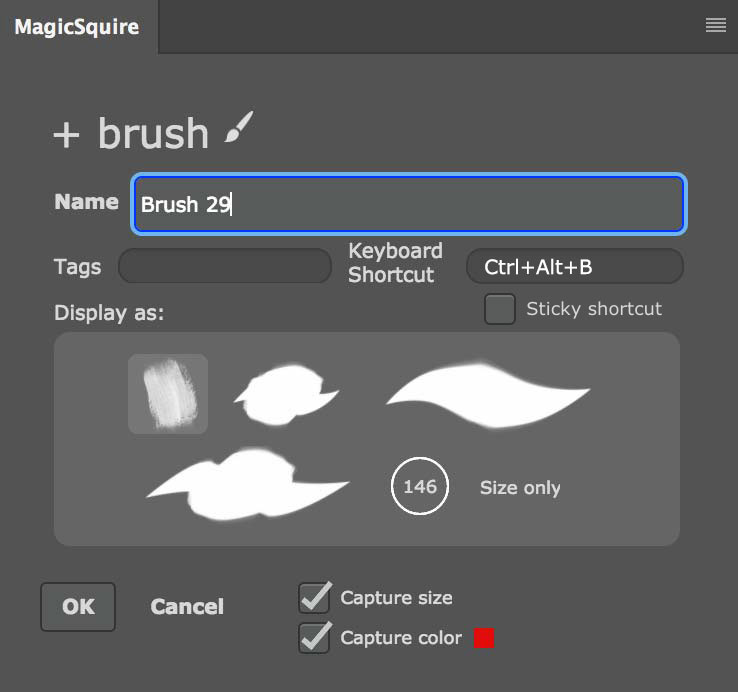 Click on
New
button on the bottom toolbar to add current brush or tool into MagicSquire. You will be presented with the Brush/Tool Parameters dialog.
Assign
tags
or a
keyboard shortcut
to the preset.
Sticky Shortcut
– if you turn it on then the brush/tool preset will be activated only temporarily when you press the shortcut. Photoshop will switch back to previous tool when you release the shortcut.
You can also
choose a stroke image
better representing your tool. Strokes are auto-generated on the fly and are displayed as high-resolution images that precisely represent tool's parameters (like size, texture, scattering, Mixer Brush parameters etc.).
Pick
Size only
to save just the size of the current brush/tool. Next time when you click this preset only the size will get restored.
Turn on
Capture Size
(on by default) to save preset's size with the preset. So next time when you click it the size will restore. Turn it off to save as a sizeless preset (tool or brush).
Turn on
Capture Color
to keep preserve current foreground color with the preset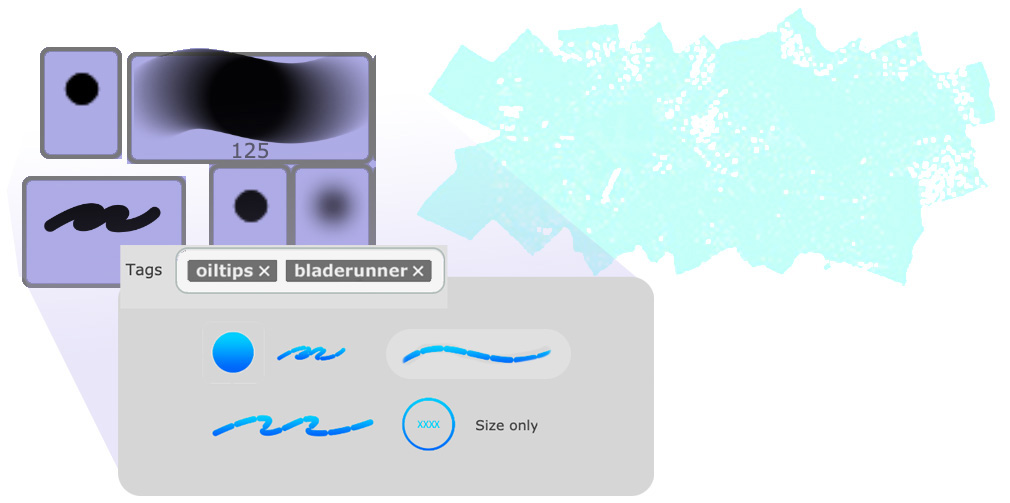 To change appearance or tags of multiple presets at once:
- select presets then right click on any of them
- choose "Edit preset(s)"
- click on the appropriate brush stroke type, or define new tags