MagicSquire manual



Please enjoy the video tutorials describing MagicSquire features:





NEW! Horizontal View, PRO Mode, Recent Tool History, Adding Shapes and Tool Presets



Adding Tool Presets, Loading Tool Presets, Tooltips, Compact Mode, deleting groups, alt-click



Adding brushes, drag'n'drop, organizing in folders, changing groups' colors, renaming, updating, size-only brushes






Installation:



Please use Adobe Extension Manager to install MagicSquire. If doesn't work on your computer try our extension manager.




Cheat Sheet:







More tutorials:



MagicSquire Quick Tutorials



FAQ:



Can I delete Brush Presets or Tool Presets from Photoshop?
Absolutely yes! You can do anything to Brush or Tool Presets in Photoshop and it won't affect your presets stored in MagicSquire panel. You can move, rename, delete, rearrange them inside Photoshop the way you want.

How to to transfer data between computer and backup brushes?
MagicSquire saves backups of your data in case of anything happens with Photoshop you will have your brushes in a safe place. And your data is safe when you switch across Photoshops. You can transfer your data between computers: simply copy MagicSquire folder from Documents folder on your old computer to Documents/MagicSquire on the new computer! That's it.

I receive the message "Please uncheck "Current Tool Only" in your Tool Presets panel...". What does it mean?
You need to open the native Photoshop's Tool Presets panel and in the bottom of it uncheck the corresponding checkmark: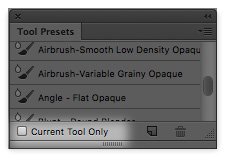 How can I change brush group's color to an arbitrary value?
Starting from MagicSquire 2.3 you can pick arbitrary color for the group using color picker. Click on the three dots next to group's name and then click eyedropper icon to launch Photoshop's color picker.




Data folder:



Data folder can grow.
Big data folder allows very fast loading and dealing with brushes. Your data folder can grow to up to 200MB for approximately 500 brushes in MagicSquire. The unique caching algorithm allows to open up the panel very fast and scroll thousands of brushes with up to 60fps speed. It's made possible by special structuring and how brush data is saved.

Truly unlimited!
This technology allows to add unlimited number of brushes into the panel. 15, 250 or 2,000 brushes will be handled by MagicSquire easily.

Optimize performance/fix errors:
To improve MagicSquire perfomance, increase speed of the UI it's highly recommended to close your Photoshop's Brush Presets (called Brushes in later Photoshop) and Tool Presets panels altogether.

If you further experience a slow performance of the panel or see errors please click MagicSquire fly-out menu and then choose Optimize performance. That will rebuild MagicSquire brush database and will get rid of possible errors.




More tutorials:



MagicSquire Quick Tutorials

Check all our panels and tools: MagicPicker, MagicSquire, MixColors, DiskFonts, Extension Manager.