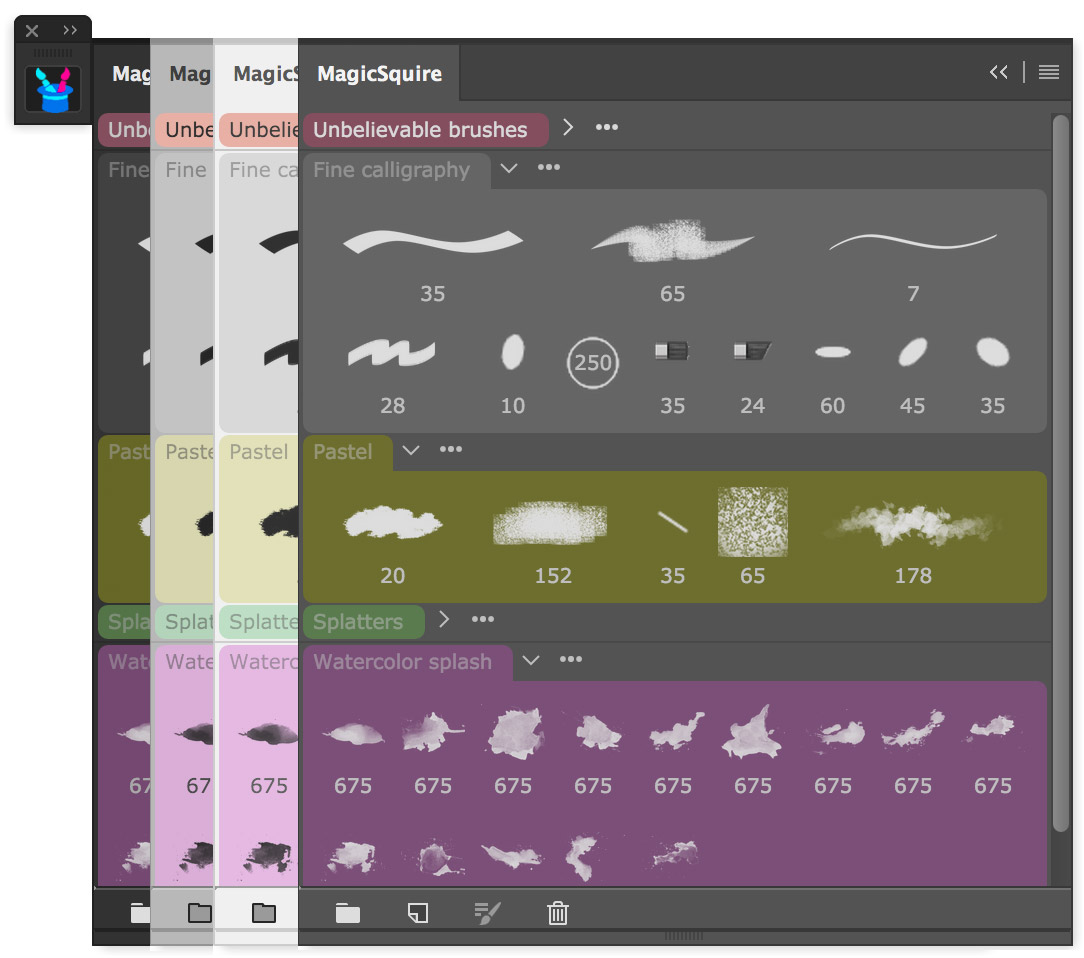 Features of MagicSquire 1.2
MagicSquire is an elegant solution that lets you sort, organize and keep your brushes in folders. Assign colors to folder. Load .abr and .tpl files. Supports Adobe Photoshop CC2017, CC2015, CC2014, CC, CS6, CS5.5, CS5, Mac, PC (all Windows). Creative Cloud & Creative Suite. The perfect brush companion for your Modbook or Surface!
Anastasiy's panels are widely used since 2008 inside Disney Studios, Blizzard Entertainment, Dreamworks, Epic Games, Crytek, Marvel Comics, Activision, Aardman Animations, by well-known concept artists such as Craig Mullins, Alex Broeckel, Craig Shoji and many others: read all quotes.

Video is worth a million pictures! MagicSquire 1.0 in action

— Puts your brushes in easy-to-use folders collections. MagicSquire structures your brushes so you don't need to look for them every time in neverending piles

Create brushes from scratch

— Just click the New Brush button to add current brush to the panel. Double-click to edit. Click Update to update parameters from Photoshop

Be creative! MagicSquire automatically generates brush images with additional stroke types

, never seen before in Photoshop: long, short, medium and brush texture. That lets you differentiate brushes visually

Supports Tool Presets.

Add advanced brushes and tool presets (like Mixer Brushes, Erasers, Pencils, Smudge Tools etc.) into panel. Rearrange, drag'n'drop, delete and perform all familiar operations

Supports custom .ABR and .TPL

Load existing brush and tool presets collections from .ABR or .TPL files with one click! Supports very large files of 50M and above. Supports loading of thousands of brushes from one file.

Versatile Groups

can be collapsed and rearranged with drag'n'drop

Complete Photoshop brush types support:

Mixer, physical, textured, patterned, ordinary - ALL OF THEM

Captures all brush parameters:

brush size, flow, blend mode, opacity - you name it! Combines all power of Brush Presets, Tool Presets and Liraries in one single panel. With new features essential to digital art
Full Photoshop Themes support

High resolution rendering

of brush images with beautfiul detail. In addition supports Retina dn HiDPI displays. Supports Wacom Companion, Microsoft Surface, Macbook with Retina Displays, 4K, 5K and 8K displays
Rearrange brushes with drag'n'drop
Just what you needed!
Powered by MagicPicker color wheel engine
FREE UPDATES within major version for all buyers
FREE 24/7 technical support



<< Return to panels